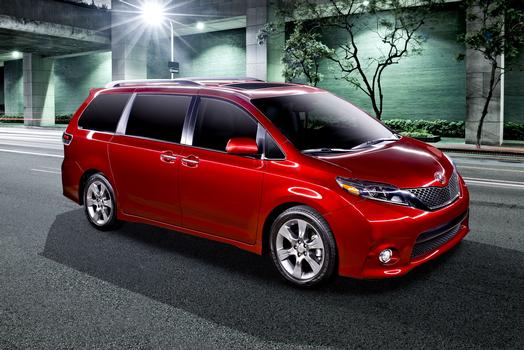 The Toyota Sienna pushes the boundaries with its sporty SE trim, but the 2017 model will feature more power and efficiency courtesy of a direct-injection V6 engine and Direct Shift – 8AT, 8-speed automatic transmission. This takes the definition of "Swagger Wagon" to an all new level.
The Sienna remains family-friendly however, with a choice of a 7 or 8-seat cabin, up to 150 cu. ft. carrying space, and comprehensive multi-media options. The Sienna also offers all-wheel drive. It is available in five different grades: L, LE, SE, XLE and Limited.
The 2017 Toyota Sienna's new 3.5-liter V6 produces 296 horsepower and 263 lb.-ft. of torque, which represents an increase of 30 horsepower and 18 pound-feet, respectively, over the 2016 Sienna. In perfect partnership with the transmission's eight ratios, the new V6 bestows the Sienna with quicker acceleration and stronger passing performance.
With the new enhancements of the new 3.5L engine, the Sienna is expected to receive a higher fuel economy rating of 19/27 MPG highway, which is up from the 2016 version's estimated 18/25 miles-per-gallon.
Of course, one of the most important aspects in a van for the family is comfort so the Sienna features a front dashboard with a convenient design that neatly groups climate control, gearshift, and multimedia buttons. In addition, the 2017 Toyota Sienna makes sure shuttling the family is a low-stress experience. With a Tri-Sync switch for the air conditioning, it allows the vehicle's driver to manage the temperature of all three climate zones easily. There is also an available pushbutton on the driver's seat center armrest that can adjust it to numerous positions, and can return to its last position even after it's been stowed. The van also features a heated leather-wrapped steering wheel, which is perfect for those frigid days.
Want to learn more about the 2017 Toyota Sienna? Contact Courtesy Toyota of Brandon for more information.