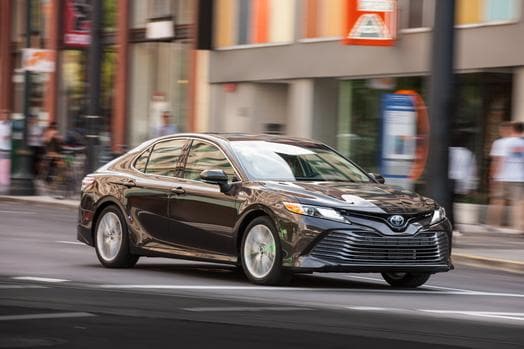 The 2019 Toyota Camry, the best-selling car in America for the past 16 years, continues to build on its already thrilling style, performance, and innovative safety and technology. The continued excitement over the eighth-generation sedan is the result of its total evolution that first debuted last model year. The 2019 Toyota Camry has gone from a proven, dependable and safe car to one that adds a more exciting character, thanks to its much talked about newfound performance and style.
The Camry development team aimed for a design concept that achieves strong harmony between refinement, as well as a sensual athletic image. The result takes the car into a beautiful and futuristic new direction.
There were three primary design goals with the 2019 Camry: a distinctive, low center of gravity that results in a firm wide stance; a practical-yet-emotionally styled cabin profile, and a sporty and upscale image both inside and out. These design goals have resulted in a type of sedan that's both exciting to look at, and more importantly drive, but reestablishing itself as the standard in the mid-size sedan category.
The 2019 Camry is available in five grades: L, LE, XLE, SE, and XSE. The sportier SE and XSE grades wear a noticeably different body style than the entry level L and LE, and premium XLE grades. The SE and XSE grades are highlighted by a sculpted rocker panel, 19-inch black machined-finish alloy wheels (standard on XSE) a subtle rear spoiler lip, aggressive front bumper, and rear bumper with a lower diffuser. The face is much more distinctive with large side intakes flanking the lower bumper's accents, a high and slim upper intake encompassing the central Toyota badge, and a powerfully expressive gloss black mesh grille. A unique rear bumper with distinctive corner lines highlight the changes at the rear. Smoke-tinted rear combination lamps are available on the XSE grade. Designers wanted to make the Camry sport grades instantly recognizable and appear different from the other models from as far as 200 yards away.
Want to learn more about the 2019 Toyota Camry? Contact us today to Courtesy Toyota of Brandon.