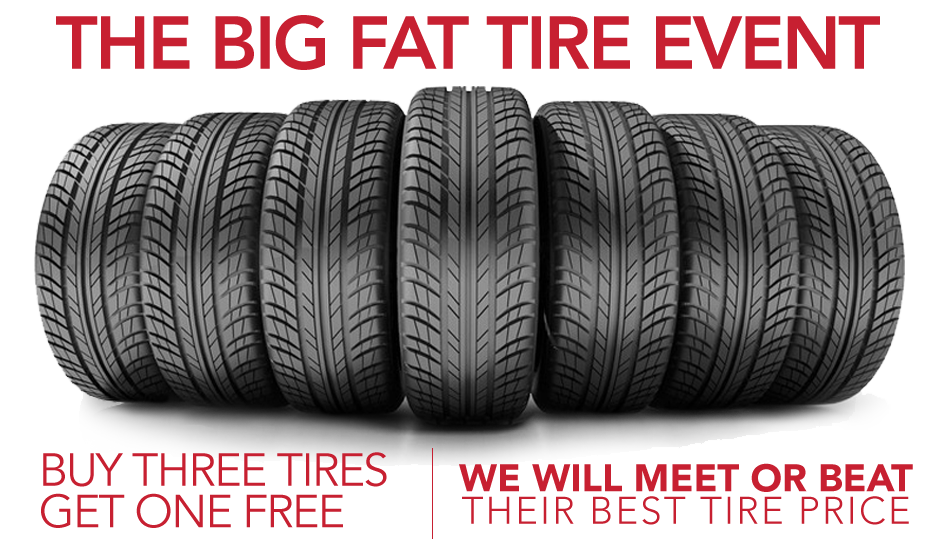 Buy Bridgestone Tires at Courtesy Toyota of Brandon in Tampa
Have you purchased your Bridgestone tires yet? If not, the time is NOW at Courtesy Toyota in Tampa, FL! When you buy 3 new Bridgestone tires, you will get the 4th for FREE. Visit our Tire Center to find the perfect set of wheels for you. Schedule your appointment today!
From August 10 to October 8, 2017, get a $70 rebate on new Bridgestone tires - only available on select models*. Submission deadline is October 18, 2017, so make your purchase and submit your information today!
* Retail purchases only.  Offer excludes Costco and GM Dealer purchases.  Reward will be fulfilled with a Bridgestone Visa® Prepaid Card by mail.  Limit 1 reward per each set of 4 tires purchased, limit 2 rewards per household, customer or address.  Visa prepaid card may be used everywhere Visa debit cards are accepted.  Certain limitations apply.  See Cardholder Agreement.  Not redeemable for cash.  Please allow 10-12 weeks for the receipt of the prepaid card.  Visit BridgestoneRewards.com or call (800) 926-3716 to check the status of your claim after 4 weeks.  All submissions must be filed online at BridgestoneRewards.com or recieved no later than October 18, 2017.  Original, fully completed, final paid & store-identified invoice must be submitted with this claim form (DO NOT STAPLE).  Offer excludes commercial, fleet and group purchases, employee changeovers, and warranty replacement purchases.  Valid in the U.S. only.  Void in PR and where prohibited.  Must be 18 or over.  No special orders or rain checks.  Claim form required.  Cannot be combined with any other offer.  Customer information collected herein is solely used by Bridgestone Americas Tire Operations, LLC ("Bridgestone") for internal marketing purposes and for the administration of Offer, and to contact the consumer if we have express consent.  Bridgestone and its agencies are not responsible for (a) late, lost, altered, forged, illegible/garbled, inaccessible, corrupted, defective, postage due or misdirected submission regardless of cause, or (b) technological problems/malfunctions/failures of any kind.  All decisions of Bridgestone are final.  Bridgestone Visa Prepaid Card issued by the Bancorp Bank pursuant to a license from Visa U.S.A. Inc.  The Bancorp Bank; Member FDIC.  The Prepaid Card is given to you as a reward or gift and no consideration, value or money has been paid by you for the card.  No cash access or recurring payments.  Card valid for up to six months, unused funds forfeit at midnight EST the last day of the month of the valid thru date.  Card terms and conditions apply; see BridgestoneRewards.com/CardTerms.  All trademarks and brand names belong to their respective owners.  Use of these trademarks and brand names do not represent endorsement by or association with this card program.  All rights reserved.  † To receive the $100 Bridgestone Visa Prepaid Card by mail you must purchase a set of 4 eligible Bridgestone tires with your new or existing CFNA credit card account.  The full 9-digit account number must be provided at time of submission.  The new CFNA account cannot be closed within 7 days of its opening.  The Bridgestone Visa Prepaid Card cannot be used to pay any credit card balance.  CFNA reserves the right to alter, change or terminate the higher value reward option at any time.  Offer valid only in the U.S. and where permitted.  The Bancorp Bank is not affiliated in any way with this credit card offer and does not endorse or sponsor this credit card offer. See participating retailers for further details.  Eligible Tires:  DriveGuard™, Ecopia™ EP422™, Ecopia™ EP422™ Plus, Turanza™ Serenity™ Plus, Dueler™ H/L Ecopia 422™,  Dueler™ H/L Alenza™, Dueler™ H/L Alenza™ Plus, Dueler™ A/T Revo 2™, Dueler™ HP Sport, Dueler™ HP Sport AS, Dueler™ LTH, Dueler™ H/T 685, Potenza™ RE050, Potenza™ RE050A, Potenza™ RE11, Potenza™ RE71R, Potenza™ RE760 Sport, Potenza RE960AS Pole Position™ RFT, Potenza RE970AS Pole Position™, Potenza™ RE97AS, Potenza S04 Pole Position™