What is ToyotaCare and Toyota Roadside Assistance?
Regular maintenance is the easiest way to insure the safety and long-term durability of your Toyota. With ToyotaCare, Toyota trained and certified technicians will perform all necessary scheduled maintenance
. Toyota Care is a no cost maintenance plan that comes with the lease or purchase of every new Toyota
car
,
truck
or
SUV
for 2-years or 25,000 miles (whichever comes first). This includes
oil changes
,
tire rotations
,
fluid
level adjustments, multi-point vehicle inspections and peace-of-mind....all on us. ToyotaCare delivers on all of the following services, when required according to the Maintenance guide, at no coast to you.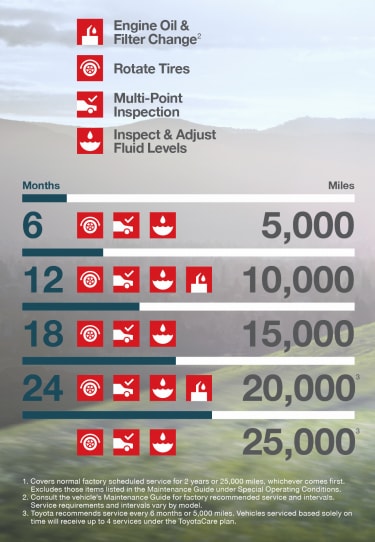 With ToyotaCare, you'll receive 2 years or 25,000 miles (whichever comes first) of no cost scheduled maintenance, plus 24-hour roadside assistance on your new Toyota. Any maintenance your vehicle needs, you'll have Toyota trained technicians to help you every step of the way.
ToyotaCare features 24-hour Toyota Roadside Assistance for those days when you need a tire changed or a door unlocked. The service also covers flat tire changes, jump starts, fluid delivery and towing. Just call 1-800-444-4195 and a representative will help get you moving again.
Not only does ToyotaCare cover the first five normal factory recommended maintenance services, it also allows you to take your vehicle to the professionals who know it best. We ensure you will get Toyota trained technicians, state-of-the-art equipment and the Genuine Toyota Parts your vehicle needs.
ToyotaCare Tampa | Toyota Care Overview 
If you live in Tampa, Brandon, Tampa Bay, Lakeland or anywhere in south Florida and are looking for the perfect Toyota dealership to take your car, schedule your appointment at Courtesy Toyota. Our factory trained technicians will be happy to perform all of the maintenance included in the ToyotaCare program.
What Does the Toyota Care No Cost Maintenance Plan Include?
The ToyotaCare plan covers the 5K, 10K, 15K, 20K and 25K normal factory recommended maintenances, a maximum of five (5) services, for 2 years/25,000 miles from the day you purchased your vehicle (also known as the vehicle's date of first use), whichever occurs first. It also includes 24-hour roadside assistance for two (2) years from the date of first use.
What does the Toyota Roadside Assistance plan include?
The 24-hour Toyota Roadside Assistance covers battery jump start, tire service, fuel delivery, lockout protection, towing and winching. 
 

Toyota-trained technicians will help you fulfill maintenance obligations and help improve your Toyota overall value, while keeping a complete history of maintenance visits.

ToyotaCare Scheduled Factory Maintenance Covers:



Inspect and adjust all fluid levels
Replace engine oil and oil filter

[2]

Rotate Tires
Multi-point vehicle inspection

 

ToyotaCare features 24-hr. roadside assistance[3] for those days when you need a tire changed, or to have a door unlocked.

24 Hour Roadside Assistance Covers:



Battery jump starts
Tire service
Emergency fuel delivery
Lockout protection
Towing
Winching

 
I know my No Cost Maintenance Benefits included Toyota Roadside Assistance, but I can't remember the phone number?
The roadside assistance number for eligible customers is 1-800-444-4195.
Must I always return to Courtesy Toyota to take advantage of this coverage?
No. We understand that our customers travel far from Tampa, Tampa Bay, Lake Inland Tampa, Brandon, etc. to experience the level of service you receive at Courtesy Toyota. ToyotaCare no cost maintenance is available at any participating Toyota dealership in the continental United States and Alaska. All maintenance must be performed by a participating Toyota dealership.
Does Toyota Care provide an oil and filter change every time my vehicle's maintenance light comes on?
Yes, if your vehicle's maintenance schedule calls for this service every 5000 miles. However, if, for example, your vehicle uses synthetic oil and an oil change is required every 10,000 miles, then the oil and filter change will not be provided during the 5000-mile interval.
How do I determine if my vehicle uses conventional or synthetic oil?
Refer to your vehicle's Scheduled Maintenance Guide (in the Owners Manuals section) for oil type and factory-recommended maintenance schedules. For a quick reference, customers can also refer to the vehicle identification card included in the Welcome Kit for oil type.
What if I need to take a trip before my maintenance light comes on? Will ToyotaCare cover my maintenance service if I bring my vehicle in before I reach the next 5000-mile mark?
Yes, but additional no cost services will not be provided until the vehicle has reached its next regularly scheduled maintenance interval.
What if, during the no cost maintenance inspection, the dealership notes recommended services? Will these be covered under the ToyotaCare plan?
All Toyota and Scion vehicles come with a 3-year/36,000-mile factory warranty. However, additional recommended services that are not included in the normal factory-recommended maintenance schedule are the responsibility of the customer.
If I have a Toyota that uses synthetic oil, why do I need to come in for service at 5000 miles when no oil change is required?
Your vehicle's Scheduled Maintenance Guide recommends other services that should be performed on your vehicle such as a tire rotation. A tire rotation at every scheduled maintenance maximizes tire life and provides an opportunity for an experienced technician to visually look for abnormal tire wear that could indicate alignment or balance concerns. This also allows the tire pressure to be checked since many tires are below recommended pressure when checked at 5000 miles. Waiting until 10,000 miles to adjust tire pressure also accelerates tire wear. Please ensure you follow all recommended factory maintenance to optimize your vehicle's performance.
Will I receive a ToyotaCare Welcome Kit that explains all of the benefits?
Yes, you will receive a Welcome Kit that covers all the details of the plan within approximately 30-45 days after the purchase date of the vehicle.
If I misplace or lose my ToyotaCare Welcome Kit or vehicle identification card, how can I get another one?
You can call the Toyota Customer Experience Center (CEC) at 1-800-331-4331 for a replacement.