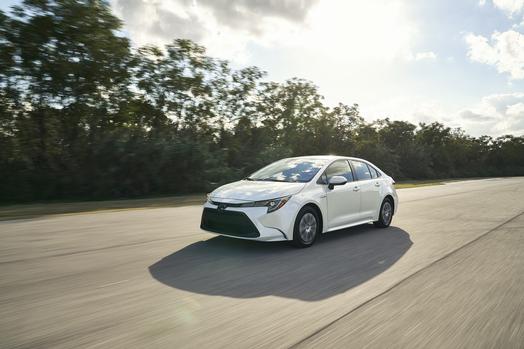 The 2020 Toyota Corolla was already big news for 2019. The Corolla has seen a complete bumper-to-bumper, fully encompassing transformation. But wait, there's more! In addition to these massive changes, there's also going to be a new hybrid Toyota Corolla model introduced that achieves at least 50 mpg combined fuel economy (projected). That makes the 2020 Corolla Hybrid the most fuel-efficient model to ever wear the model name.
The newly updated design isn't the only incredible thing about the Corolla Hybrid. This high-efficiency model adapts the latest Toyota Hybrid Synergy Drive from the new-generation Prius, already proven as an MPG winner. Only Toyota offers such a distinct choice of hybrids in this vehicle segment. By adding the Corolla to the lineup, this helps to catering to different customers who have different tastes in design but still have the desire for maximum fuel efficiency.
The 2020 Corolla Hybrid, like its gas-powered siblings, delivers a highly-satisfying driving experience. To make it even better, it will also feature Toyota's latest advances in comfort and multimedia technology. For example, like the 2020 Corolla gas models, the Toyota Safety Sense 2.0 suite of active safety systems comes standard on the 2020 Toyota Corolla Hybrid.
The hybrid powertrain and battery were a natural fit for the new Corolla because of the Toyota New Global Architecture (TNGA) platform. Best of all, there's no compromise in cabin roominess when choosing between the Corolla Hybrid versus the gas model.
The 2020 Corolla Hybrid will feature an EV mode, which allows the vehicle to be operated as a pure electric vehicle for short distances. This mode is useful for operating the vehicle in parking lots or indoor parking garages, for example.
Along with the expected NORMAL and ECO drive modes, there will also be a SPORT drive mode setting that allows for an increase in power for stronger acceleration response when desired.
The 2020 Corolla Hybrid is yet more evidence of Toyota's indisputable global hybrid leadership, which began more than 20 years ago. Want to learn more about the 2020 Toyota Corolla Hybrid? Contact us at Courtesy Toyota of Brandon today!